If you are a builder or homeowner hoping to recondition your home or install ceramic tiles outdoors, you might have some concerns. You may want to know if tiles are water-resistant, long-lasting, and frost-proof and how to maintain them.
Your legitimate questions are being explained on this page to allow you to buy the ceramic tiles that would give you value for your money. For clarity, here is what you should know about outdoor ceramic tiling.
The Long History of Ceramic Tiles for Building Construction
Ceramic tiles' history dates back to over 5,700 years. Earlier Egyptian building engineers used glassy bricks for house decoration. Porcelain was used in China later in the 15th century AD.
Lately, Ceramic and porcelain now adorn patios, gardens, and swimming pools. Ceramic tiles are among the most widely used flooring methods indoors and outdoors. Ceramic tiles feature diverse colors, sizes, and forms, and are built with long-lasting sun-resistant materials.
What Are the Top Outdoor Ceramic Floor Tiles?
If you are looking for the top outdoor ceramic tiles, you can get them in a hardware store. However, getting them from a specialist tiling store like Novoceram ceramic tiles is better. When you will contact them, the tile experts will explain everything you must know about your next tiling program. You will also have better choices and advice that could save you money.
If you are a DIY fan, after the explanations of the complexities of the tasks, you will have a better understanding of the whole tiling process. And if you still want to go ahead and do it yourself, you would have more facts that you can use to successfully carry out the installation to completion.
Again, you might make a different decision about a DIY building once you find out the complexity of the task. Whatever choice you make, select tiles that are manufactured from thick materials.
If you select leaky, tiles water will seep through the grouting. And that will cause the growth of molds under the tiles and ugly stains. Again, during winter, the water will solidify, cracking the tiles.
If you want to hire a professional or DIY, get tiles that are thick, glassy, ice-free, insect-proof, and firm when water melts underneath. Also, ask the dealer if there is a guarantee against chilly temperatures.
How to Keep the Floor Flat for Outside Tiling
There are two ways to install tiles on outdoor floors. You could tile the current floor or break the old floor and start afresh. In both methods, you must keep the floor flat.
The easiest way to do the job is to tile directly on the old tile. Still, to do a good job, before you start work, confirm the condition of the present floor or foundation. Try and make the floor level so that the new tile will sit on a flat surface.
Whether you want to improve the floor or if the floor was constructed newly, keep the floor flat. Nowadays, you have self-leveling chemicals you could get and if you are improving the floor, pour sand on any high area to make them level.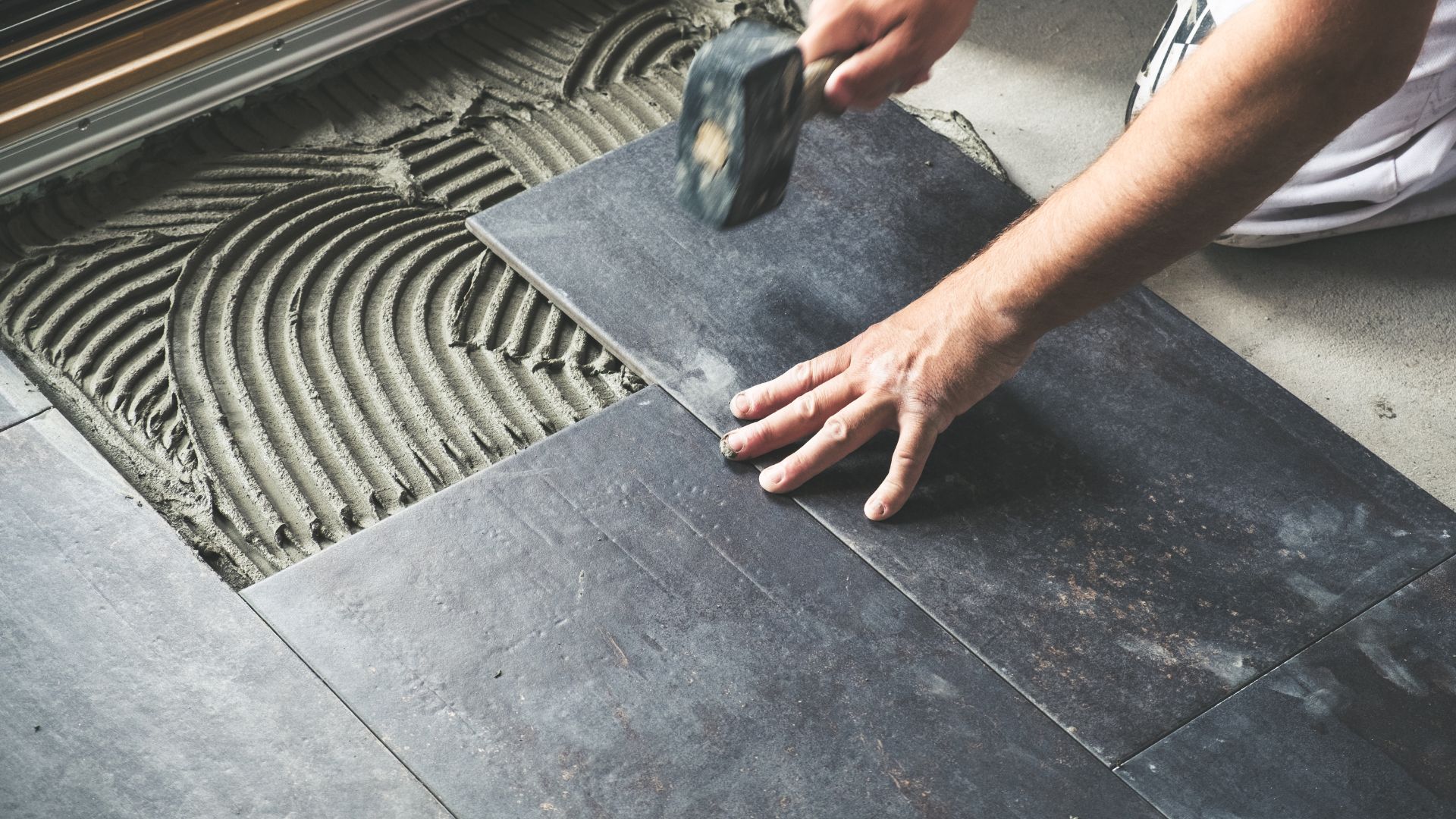 Why do You Require a Damp Proofing Sheet for Tiling a Floor With Outdoor Ceramic Tile?
You will need a waterproof sheet to separate the tiles from the ground when you fit ceramic tiles outdoors on your patio. The reason is that you don't want water to seep through the grout under the tiles.
As you learned earlier, water causes unsightly stains and encourages the growth of mildew. Also, water under the tiles, will expand during winter and break the tiles. You wouldn't want that to happen to your terrace, so get a seclusion sheet. It is made of rubber with thin glues and water-resistant paints that keep mildew out.
How to Secure Outside Ceramic Tile Flooring
Using grouting substances helps to secure the joints and in between the ceramic tiles. Grouting substances contain water-resistant paints that expand when the Sun is hot. The formula is flexible and prevents water from seeping through the tiles to settle underneath. If you procure silicon grouting glue, it will help reinforce the strength of the grout and prevent water from entering under the tiles.
Advice for Installation of Ceramic Tiles Outside
Use this advice to effectively install outdoor ceramic floor tiles on your patio or garden.
Obtain top-grade materials. The cost of the tiles should indicate their durability. Likewise, you should consider buying high-grade grouting and caulking materials.
Obey the Maker's Suggestions. Use the Grout as suggested. Blend chemicals as recommended during the blending of the grout, bond, sealant, and calk. Use these materials only and apply the products to empty and firm blocks.
Make adjustments for Enlargement. Avert breakage of a newly tiled surface by arranging the enlargement joints and putting an adjustment of a minimum of 16 feet spacing between the joints.
Installation of a Damp Poof sheet. Obtain a top-grade rainproof material for the installation of the Ceramic tiles.
Examine and Preserve Your Outdoor Ceramic Tile Floor Periodically. After the end of each season, inspect your ceramic floor tiles. Try to locate any damage in the grouting and enlargement joints. Each season has different temperatures and natural elements would affect how your tiled floor reacts. When you examine the floors on time, you will prevent needless breakage.
To answer the commonly asked question: Do People Use Ceramic Tiles in Open air? Yes, they use them outside.
Ensure you obtain the Ceramic tiles manufactured with thick materials, and damp proof the floor. If you have any doubts about doing it yourself, get an expert tiler to do the job for you.